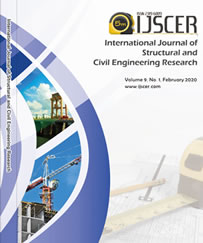 International Journal of Structural and Civil Engineering Research
is a scholarly peer-reviewed international scientific journal published quarterly, focusing on theories, systems, methods, algorithms and applications in Structural and Civil Engineering Research. It provides a high profile, leading edge forum for academic researchers, industrial professionals, engineers, consultants, managers, educators and policy makers working in the field to contribute and disseminate innovative new work on communications. All papers will be blind reviewed and accepted papers will be published quarterly which is available online (open access) and in printed version.
Recently Published Papers
Effect of Stirrup Ratio on the Shear Behavior of 1/2 Scale RC Beams
Selcuk University, Engineering Faculty, Civil Engineering Department, Konya, Turkey
The shear behaviour of reinforced concrete beams is playing important role for reinforced concrete structures. For this reason, reinforced concrete beams are needed to be tested under various loads. The shear capacity of reinforced concrete beams with low shear strength can be increased by reduce the spacing of stirrup. Therefore, four 1/2 scale reinforced concrete beams were tested under four-point loading system and stirrup effect was investigated in this study....... [Read more]
ISSN: 2319-6009
Editor-in-Chief: Prof. Jang-Ho Jay Kim
Associate Editor: Dr. Fabio de Angelis
Managing Editor: Murali Krishna. B
Assistant Editor: Sujitha R. Reddy and D. Savitha
DOI: 10.18178/ijscer
Abstracting/Indexing: Index Corpernicus, ProQuest, UDL, Google Scholar, Open J-Gate; etc.
E-mail questions to: IJSCER Editorial Office.
Prof. Jang-Ho Jay Kim
Department of Civil and Environmental Engineering, Yonsei University, Republic of Korea
"The role of a structural engineer today involves a significant understanding of both static and dynamic loading, and the structures that are available to resist them"